HOW MUCH IS FREIGHT/SHIPPING?
Orders over $1500 get FREE FREIGHT! Smaller orders get the best UPS rates with no service or handling charges. Shipping charges are based on what UPS charges us. National Prize and Toy offers U-Save freight where your freight charges will never exceed a certain amount depending on your delivery address location. Maximum freight zones can be seen on the map below. You can order as much as you like (excluding pictures, jumbo plush, lead, and aquarium gravel) and never pay more than the amount shown on the map for standard ground service shipping! WE DONT MAKE MONEY ON FREIGHT BY OVERCHARGING!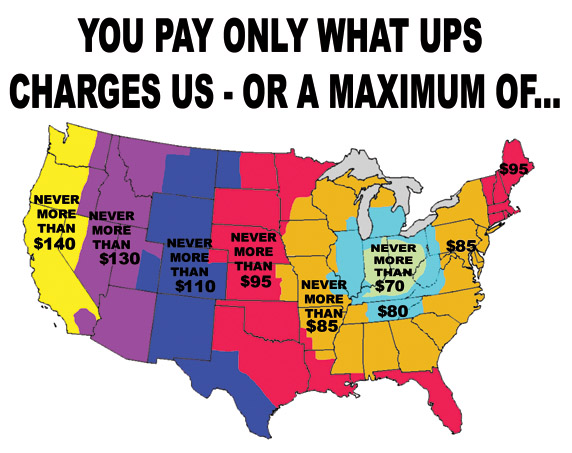 HOW LONG WILL IT TAKE TO RECEIVE MY ORDER?
We ship all orders placed before noon the same day that you order. We ship the same day for about 90% of orders placed in the afternoon. We ship with a variety of LTL carriers, UPS and FedEx. UPS Ground package times and transit times for LTL shipments can be seen below.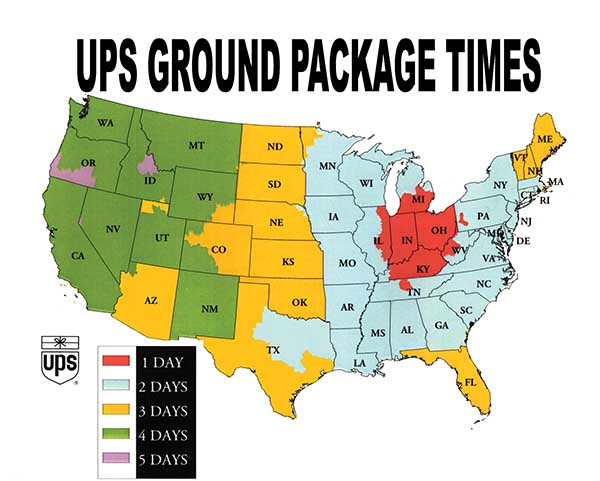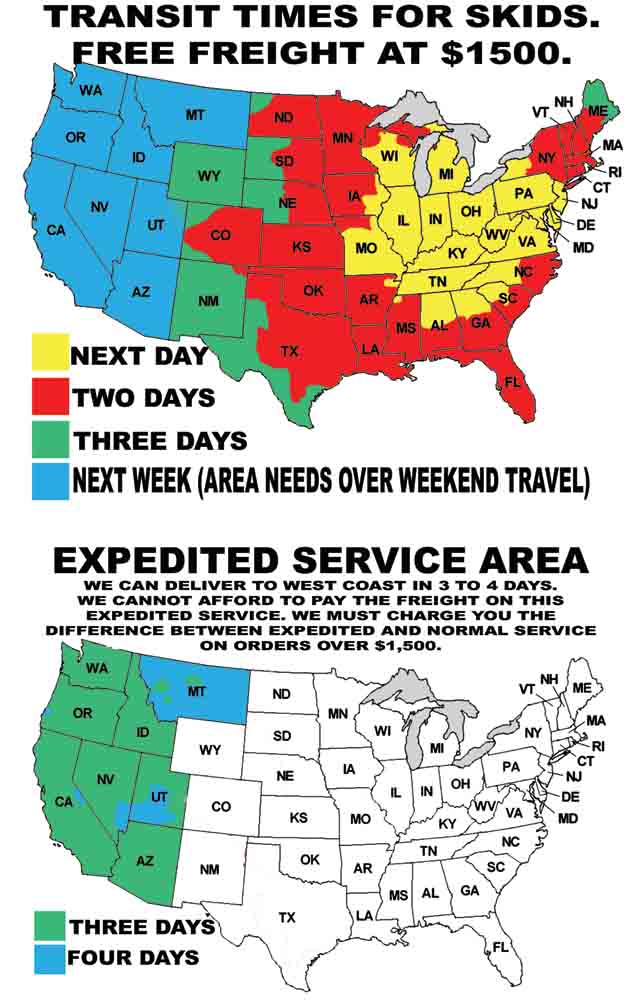 AN ITEM SAYS $1.25. IS THAT THE PRICE FOR THE WHOLE BOX OR PER PIECE?
If an item says $1.25, then it is $1.25 per piece. For example, a box of $1.25 plush with 60 pieces per box would cost $75.00 a box.
SOME ITEMS DO NOT SPECIFY HOW BIG THEY ARE. WHY?
Giving items a size can be tricky. If an item does not specify size, you can assume that it is about the same size as other items with similar case counts. If you would like more information feel free to call us 888-442-8696.
HOW CAN I GET MORE INFORMATION ON AN ITEM?
If you have a question about a specific item(s) or general questions, please call us at 888-442-8696. We would be more than happy to answer any questions and to assist you in making your decision.
CAN I ORDER LESS THAN A BOX OR BY THE DOZEN?
At this time we only sell by the box (case).
WHY CAN'T I ORDER ONLINE?
We do not sell our products online because we believe in personal service. We are experts in the carnival, FEC, fundraising, and amusement industry, and we do not want you to buy something if it is not the right fit. Give us a call at 888-442-8696 and let our professionals guide you in your purchasing decisions.
HOW DO I REQUEST A CATALOG?
You can request a catalog by calling us at 888-442-8696. An online version of the catalog can be seen by clicking HERE.
HOW CAN I TRACK MY ORDER?
Tracking your order has never been easier. All orders can be tracked by calling us at 888-442-8696. If your order was shipped via UPS and we have your e-mail address on file, then your UPS Tracking # will be sent to you after your order is placed. If your order was shipped on a skid, give us a call and we will track your order for you.
IS THERE A MINIMUM AMOUNT FOR AN ORDER?
Yes, 1 full case(box). We sell by the case (box) and do not break cases.
CAN I ORDER YOUR PRODUCTS INTO CALIFORNIA?
Our products are appropriately marked with the Proposition 65 warning label when necessary, and are safe to be shipped into California.
HOW CAN I PAY FOR MY ORDER?
We accept many forms of payment: Visa, MasterCard, Discover, American Express, Western Union, MoneyGram, and bank deposit. For information regarding Credit, click HERE.
We can be contacted in a variety of ways:
Phone: 1-888-442-8696
Mail: P.O. Box 9888 Cincinnati, OH 45209
Fax: 1-513-721-3558
E-mail: info@nationalprizeandtoy.com
Click HERE for more information regarding employment opportunities.
National Prize and Toy
P.O. Box 9888
Cincinnati, OH 45209
888.442.8696